AAUW Book Discussion
Faculty Lounge, Union 202 B
February 28, 2013
4:30 PM
Moderators:  Joi Phillips and Georgene Clark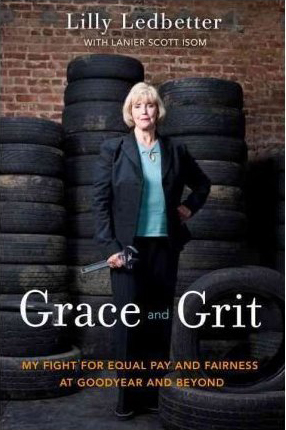 Book: Grace and Grit: My Fight for Equal Pay and
Fairness at Goodyear and Beyond
by Lilly Ledbetter & Lanier Scott Isom
Discussion Questions
What do you admire about Lilly Ledbetter and her struggle for equal pay?
What did you think of Lilly's personal sacrifices?
Is there anything you think Lilly could have done differently?
Would you have worked for Goodyear all those years?
Could you identify with Lilly's life story?
Do you appreciate Lilly's fight for equal pay?  Has it been worth the hardship?
Books for Discussion – 2013
(Please indicate your choice and return to gclark@deltastate.edu by Friday, November 9.  Thanks.)
____  Grace and Grit: My Fight for Equal Pay and Fairness at Goodyear and Beyond
 by Lilly Ledbetter
The courageous story of the woman at the center of the historic discrimination case that inspired the Lilly Ledbetter Fair Pay Restoration Act–her fight for equal rights in the workplace, and how her determination became a victory for the nation.
_____Salvage the Bones     Jesmyn Ward
It's by Mississippi author Jesmyn Ward and won the National Book Award last year.  It's  about motherless children with a hard-drinking father and a hurricane threatening the Gulf Coast.  Esch, the fourteen-year-old daughter is 14 and pregnant.  Young Skeetah is trying hard to keep his pitbull puppies alive.  It may cause us to lose the will to live, but nonetheless it must be good.
_____Canada        Richard Ford
CANADA by Richard Ford,  is an excellent novel about the son of two people in America who have to resort to robbing a bank in order to get by financially.  As they are imprisoned, the mother of the son and his twin sister, sends the fifteen-year old son off to Canada to hide and to start a new life in order to escape life in an orphanage in The United States.  In Canada, however, he is relegated to some people on the fringes of society as he has to forfeit going to school and learn how to deal with geese hunters in some shadowy towns in Canada.  He has fallen in, inadvertently, with a "Harvard" man (one of his new mentors in rustic Canada) who committed a murder a few years back in the United States, and we see how Dell (the boy) gets pulled in with his renegade ways, as he himself has no way out.  The novel is told from the perspective of the boy who has grown up and is looking back on his youth in The States and then in Canada.
It is very psychological and descriptive and knowledgeable about a way of life that is exotic and strange, but extremely realistic.  It is just recently written by the Pulitzer-winning author, Richard Ford, and that, in itself, speaks volumes about the style and content.
The book is 418 pages long and is really a good read.  On a feminist level, we see how a mother has to think about her children, even though she has to go to jail for something her husband made her do.  And what happens to the mother in jail is not a pretty picture!
From last time—
Any one of the Kate Morton trio:   _____The Forgotten Garden, _____The House at Riverton, _____The Distant Hours 
The three books are all very different in plot, but all are amazingly well-crafted, moving the reader effortlessly from the past to the present and back again.  Multiple narratives flawlessly intersecting unpeel the layers of family secrets and emotions.   (Choose one)
_____ 11/23/63 by Stephen King
Stephen King's 11/23/63, finds a way to revisit and even revise the events surrounding the assassination of President John F. Kennedy by having an English teacher travel back in time to 1958 in order to alter history. The book's front cover depicts a newspaper account of Kennedy's death in Dallas on that date. Its rear cover presents the opposite outcome, with the president and first lady looking happy and unscathed.
The 849 pages of 11/22/63 fly by, filled with immediacy, pathos and suspense. It takes great brazenness to go anywhere near this subject matter. But it takes great skill to make this story even remotely credible. Mr. King makes it all look easy, which is surely his book's fanciest trick.
_____ The Memory Keeper's Daughter by Kim Edwards
From the website: . . . On a winter night in 1964, . . .  a blizzard forces Dr. David Henry to deliver his own twins.
His son, born first, is perfectly healthy, but the doctor immediately recognizes that his daughter has Down syndrome. For motives he tells himself are good, he makes a split-second decision that will haunt all their lives forever.  Compulsively readable and deeply moving. . .  a brilliantly crafted story of parallel lives, familial secrets, and the redemptive power of love.
_____State of Wonder  by Ann Patchett
Ann Patchett's State of Wonder and liked it a lot.  The plot involves employees of a U.S. pharmaceutical firm who are sent to the rain forest in South America to try and figure out why the women there can have children on into their seventies.  The characters are well developed, the settings are spectacular, the mysteries intriguing.  And I see that's it is now out in paperback.
_____The Girl with the Dragon Tattoo by Stieg Larsson
An international publishing sensation, Stieg Larsson's The Girl with the Dragon Tattoo combines murder mystery, family saga, love story, and financial intrigue into one satisfyingly complex and entertainingly atmospheric novel.
Harriet Vanger, a scion of one of Sweden's wealthiest families disappeared over forty years ago. All these years later, her aged uncle continues to seek the truth. He hires Mikael Blomkvist, a crusading journalist recently trapped by a libel conviction, to investigate. He is aided by the pierced and tattooed punk prodigy Lisbeth Salander. Together they tap into a vein of unfathomable iniquity and astonishing corruption.